2020 has been a rough year because of all this Covid-19 situation all over the globe.
The fast pace cities were slowed down by lockdowns. But during this time, one thing remains constant.
It's the ever-growing craze of Anime. During this lockdown, many found Anime as a new way to entertain themselves.
Now, one of the worst years in human history is about to end. Just like in previous years, we had some amazing Anime series. So, with this post, I'll share my favorite picks of 2020. Let's get started:
Tower of God
Tower of God tops the list of 2020's best Anime. Based on a South Korean manhwa, tower of god is an anime series licensed and simulcasted by Crunchyroll.
If it wasn't for the manga's popularity, we wouldn't have got its Anime adaption. As of now, there's a mobile game and franchise for the South Korean webtoon.
The Anime series first aired on South Korea's online platform NAVER and once the series was over, it got an immediate release in Japan.
Originally, it aired between April 1 to June 24, 2020.
Now coming to its plot, the tower of god follows its story around a boy who goes by the name of twenty-Fifth Bam. He has spent most of his life trapped under a vast and mysterious tower with his friend Rachel. She's the only girl he ever cared for. He never wanted anything more out of his current situation. It was Rachel who wanted to reach the top of the tower.
With no connection to the outside world, Baam and Rachel begin their journey of reaching the top.
For the intentional audience, It's first season containing 13 episodes are available to stream on Crunchyroll as an original series. Once you watch the anime on Crunchyroll, do share your opinion on the Anime series in their content section given below. Or else you can read its latest manga on mangahere, the best manga reader.
BEASTARS
BEASTARS makes the 2nd Anime series in this list. Even though the Anime series was released by the end of 2019, it was Netflix that delayed the series to March 2020. BEASTARS season 1 aired between October to December 2019 on Fuji TV's ultra programming block for 12 episodes.
And as for the story, BEASTARS begins in a world where animals have human characteristics. It follows a timid and quiet student of Cherryton academy, Legoshi (A large gray wolf). At the academy, he lives in a dorm with his friend Jack and other Carnivorous students.
He works as a stagehand in the school's drama club headed by the star actor Louis, a red deer. He's helpful and supportive of all the actors of the club.
Everything was going alright then one night, an alpaca that goes by the name of Tem was found dead. The incident then leads to an increase in distrust between herbivore and carnivore students of Cherryton Academy.
Now between all these series talks, Legoshi has a future altering meeting with Haru, a dwarf rabbit. This encounter further leads to a revelation. Ever since Haru has met with Louis, he has been in love with her.
Great Pretender
Great Pretender is the third high rated Anime of 2020. It's a Japanese original crime comedy website anime series by Wit Studio. It's a Netflix original series that was released by Fuji tv in Japan. The anime series consists of 4 cases and each case includes s particular number of episodes. Here's compete for detail of its Netflix release:
Case 1: Los Angeles Connection is from episodes 1-5.
Case 2: Singapore Sky is from episodes 6 to 10.
Case 3: Snow of London is from episodes 11 to 14.
And lastly,
Case 4: Wizard of far East is episodes 15 to 23.
Netflix releases these 4 cases at different intervals and the final case was released last month in November.
Now coming to the story, Great Pretender follows the story of Makoto Edamura who thinks of himself as Japan's greatest con-man. Then comes a charming and masterful gentleman thief Laurent Thierry. After defeating Makoto, he plans to recruit him as his apprentice. Now part of a globe-trotting crew, Edamura learns to trick some elite criminal of the world.
However, Edamura is yet to find everything that his fate has planned for him. To be a part of Edamura's journey of becoming the world's greatest con-man, purchase Netflix monthly subscription now.
The God of High School
The God of High School is the 4th Anime on this list. The Anime television series aired its first episode on July 6, 2020, and it concluded on September 28, 2020, with 13 episodes. Based on a South Korean webtoon series, The God of High School Anime series follows the life of Mori Jin. As the story starts, he along with his friends takes part in a fighting tournament for high school students. The winner of this tournament gets the "God of High School" title and a wish.
Looking back at his fighting skills, Mori analyses his chance of winning the tournament. God of High School Anime has everything that an anime fan wants to see in a series. It's an action-packed series full of action-packed fights, humor, and an emotional bond between school friends.
It's been months since the conclusion of The God of High school season 1 and there no official confirmation on renewing the series for a second season.
Fruit Basket (Season 2)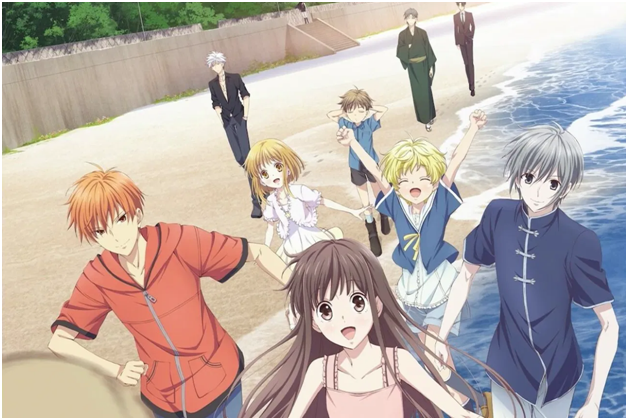 Last but not the least is fruit basket in this list. Fruit Basket is a reboot of 2001's Anime series that goes by the same name. The anime series is produced through the Crunchyroll-Funimation partnership.
The Fruit Basket reboot started airing its second season in July 2020 & it concluded in September 2020 with 25th episode.
As for the next season, its production has suggested started and it's expected to release sometime in 2021.
Final words
That's all for now. These are the 5 top-rated Anime of 2020. Have you watched any of these Anime this year? If not, will you add them to your gogoanime watchlist? Well, whichever way it is, do let me know in the comments section given below.